We are pleased to inform you about the highlight session of "How do Prebiotics and Probiotics Work? Mechanistic Insights into Their Function" organised by International Life Sciences Institute - ILSI as follows:
Bruno Pot - chair, Institut Pasteur de Lille, Center for Infection & Immunity of Lille, France
Title of presentation: "Pro- and Prebiotics: an Evolution that Cannot Be Stopped, Despite Some Questions Await Answers"
Robert Rastall, University of Reading, UK
Title of presentation: "Designing Next Generation Prebiotics for Lifelong Health"
Sarah Lebeer, University of Antwerp, Belgium
Title of presentation: "A Conceptual Frame for Defining Mechanisms of Probiotics Action"
Session will be followed by Panel discussion lead by ILSI Europe.
In case of any question, please feel free to
contact us
.
Best Regards,
Sin-Hyeog
Prof. Sin-Hyeog Im
President of IPC2017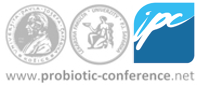 The International Scientific Conference
on Probiotics and Prebiotics
Tel.: +421 918 707371
Web:
www.probiotic-conference.net
This e-mail may contain confidential and/or privileged information and is intended only for the use of the
individual or entity named above. If you have received it in error, please advise the sender immediately
by reply e-mail and delete the original. Any further use of this e-mail by you is strictly prohibited.



Unsubscribe